The lost whale
Incredible! A whale in Buenos Aires
In the early days of August, 2015 a fantastic sighting was observed in the River Plate, specifically in Puerto Madero, Buenos Aires. There was a large, nervous mammal swimming in dam 4.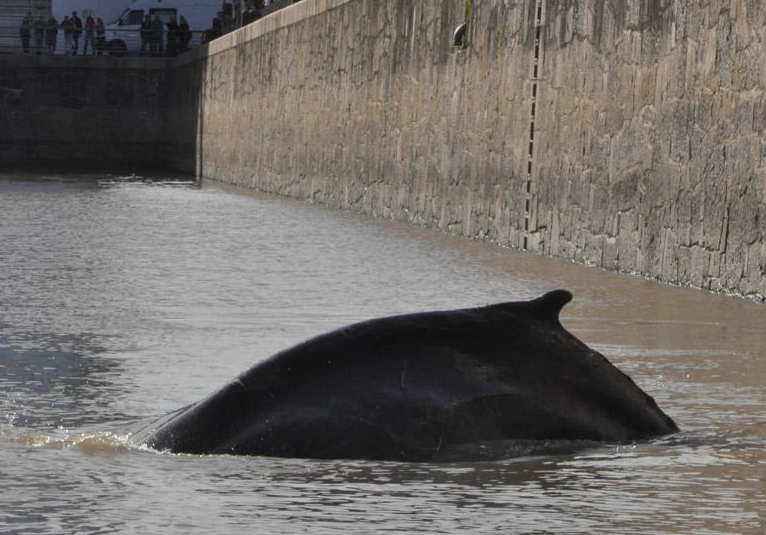 It was monitored and its behavior recorded by marine biologists; it was decided that they had a young humpback whale, weighing about six tons, in their hands.
The calf had strayed from a pod of whales.
The adventure had a happy ending because the mammal was able to leave the dam enclosure and return to the open seas.
In title 6 of the "Boletín de Noticias" of November, 2012, we published the story of "Renata, the whale" telling the interesting adventures lived by a whale calf. The author, Mrs. Marta Dora ARIAS, was inspired by the stranded mammal in Puerto Madero, Buenos Aires, to write the poem "The lost whale calf" and some thoughts about education.
She wrote the following:
"I believe that random happenings, such as the whale calf stranded in the dam in Puerto Madero, are incentives in the educational process to motivate students in things and events not normally seen in everyday life.
Who would think of finding a whale stranded in a canal in Puerto Madero?
How to coax such a gigantic mammal from a canal to the mouth of the river and further out to sea?
Think of the great distances travelled to breed in warm waters to later find food at the other end of the ocean?
Talk with the students about possible rescue procedures to bring forth ideas and strategies in order to improve creativity and logic. The docent should take these infrequent situations to promote activities for students to observe and investigate in different surrounding
I AM A NAÏVE DOCENT..."

The lost humpback whale calf
By Martha Dora ARIAS (2015)
Translated by Dora Bellini BORDEN
"A humpback whale calf left his migration trail.
And found himself in one of Argentina's dikes.
The lost mammal, far away from his herd,
sick and skinny, searched for safe haven.
The warm river waters of Puerto Madero.
Offered ships and sailboats to him.
It was impossible for the nervous calf to eat!
The narrow canal made it hard to move!
The Coast Guard guided him to use the
tide and winds to find the path to the sea.
It is believed he was with other humpback whales.
En route to Brazil to procreate before coming back.
Will they return to Malvinas where penguins,
walrus, seals, crabs, birds and sheep live?
Or will they choose our Antarctic, the White Continent Of eternal snow, Marambio and lovely vistas?
Wherever you go, humpback whale calf.
May you arrive to the ends of the world
with your family and in full health!"
To remember: